HVAC, Air Conditioning & HeatingHolts Summit, MO, Jefferson City, MO, New Bloomfield, MO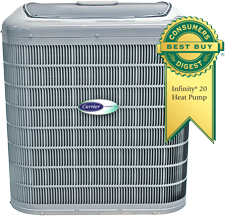 Can a heat pump meet your high demands for ideal temperature control, dehumidification, and cost-savings?  Yes.  Can Woodman Engineering Company meet your high expectations for quality products, expert service, and quick turnaround for installation, maintenance, and repair?  Most definitely.  Family owned and operated, we provide residential and commercial customers across Jefferson City & Surrounding Areas with simple, smart, and sustainable solutions to extreme local weather.  We keep you refreshingly cool in summer, toasty warm in winter, and satisfied with your decisions, every single day of the year.  By specializing in Carrier brand heat pumps, we ensure you get the ideal system to meet every requirement.  From geothermal options to high-efficiency electric heat pumps and dual fuel systems, Woodman Engineering Company has exactly what you need to improve your indoor environment.
Expert Heat Pump Services
Technological developments have led to modern heat pumps that answer nearly every type of weather challenge, and significantly minimize costs.  While your heat pump looks and acts like an air conditioner in the summer months, it reverses operation to heat your home during the colder months.  When combined with your furnace as a Hybrid Heat solution, your system automatically takes advantage of maximum efficiency and money savings at all times.
Call Woodman Engineering Company for heat pump repairs, service, and installations!
If you've been considering adding air conditioning to your home, a heat pump is a smart and practical alternative.  Contact Woodman Engineering Company and speak to a helpful member of our team for more information.  We'd be happy to explain options, provide recommendations, and set up a convenient appointment time for installation, seasonal upkeep, or repair.  For heat pump service across Jefferson City, Holts Summit, New Bloomfield, and surrounding communities, Woodman Engineering Company draws from over eight decades of proven reliability.
Air Conditioning • HVAC • Heating